Some words from our beloved customers.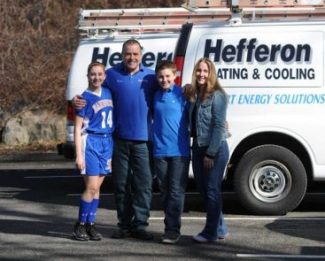 Based on 104 reviews
Doing business with Ernie Hefferon has by far been the best repair experience I've had during 22 years of owning this house. First off, I was to deal with personable Ernie himself, not with some sales rep whose commission would be built into the price. The replacement of two compressors and air handlers was accomplished in two days by polite, competent, and well-spoken technicians who didn't seem to mind a question or two from me along the way. Don't even bother to get alternative quotes; you won't do any better.

After having several quotes from companies who had questionable reviews I found Ernie at Hefferon. He came and we discussed the alternatives, several times until we were both comfortable with the choice I made. on the agreed date the equipment and crew showed up at the same time. They worked extra hours to get my old heat pump removed and replaced with the new Trane system in two days. Afterwards Andrew and Mat walked me through everything they had done and gave me instructions on how to operate the system. The work is neat and they cleaned up as though they were never there. I am very happy with HEFFERON so far and have no problem recommending them to anyone interested.

After getting the "bums rush" from my previous HVAC service company, I called a friend who recommended Hefferon, and so I gave them a ring. Surprisingly, the woman who answered the phone said, "I can have a tech there in an hour." Andrew & Max were on time, and diagnosed the problem; my central A/C was dead. They wrote the report, called their boss and said, "we'll try to get a new unit in this week." Well, to my surprise, Ernie (the boss) moved some things around, and the techs, Andrew, Max, and Vaughn were here 2 days later doing the job, and they did it well. Courteous, efficient, "stand up" guys; you can't ask for better than that. Ernie: thanks for making the time to install the new unit; Andrew, Max, Vaughn: thank you for a job "well done." This is not false praise; these guys are good!

Any time people ask who installed our central A/C, we light up - Ernie and his team from Hefferon are skilled, thoughtful, friendly technicians who take the time to understand your home and artfully fit in the beast of a system into our home. We were treated with respect and were taught to understand our air conditioning - what the estimate entails, how the installation would go, what it's doing, how to operate and care for it. We never once thought we were just another job, and felt cared for, so that we feel confident about our investment. We have an old 1930's house with tiny closets - yet we barely lost space thanks to Andrew and the crew. I believe we gained comfort in our home, and feel like we can love it thanks to them! Make sure to call Ernie and his team!

BEYOND EXCELLENT!!! We have a 300 year old home which 3 Companies stated they were not able to install an AC System because of the limited head/attic room. Not only did Hefferon's staff find a way to install our AC System in VERY CREATIVE and excellent ways-they were 2/3rds the price of the only other Company that said they could install a System. Hefferon's very astute team of installers were so respectful of our home-always wearing booties upon entering, always very respectful of informing me of all they were doing. True gentlemen, very knowledgeable and informative of our Trane System which not only is our AC unit but is also a supplemental heating unit for days that are above 0% and freezing. BEST experience of our renovations/upgrades and this past winter was so enjoyable as our guests were able to control their own zones, and our home stayed a perfect temperature even on the coldest days without overheating as with our traditional oil heat. In addition, we chose the HEPA filter because of my husband's allergies (thanks to their different options of systems to install). Today they came to do our bi-annual cleaning of filters and the same courtesy was shown. The system is running PERFECTLY!!!! Thanks to all of you at Hefferon for all you did on many levels of our home and on many levels of professionalism!!! Forever grateful!!

Hefferon Heating and Cooling installed our furnace and air conditioning a few years back. Recently, they put in a mini split heat pump in the room above our garage. The owner Ernie was very friendly and professional. He came out to look at the job and answered all of my questions. A few weeks later they installed the unit. Before they left, they made sure I knew how to work the unit worked and showed me how to maintain it. I would highly recommend Hefferon Heating and Cooling to anyone looking for great prices and quality work!

Great service! We had new heater and a/c units installed and Ernie and his team were terrific. They even offered to help with a problem we were having with poor air flow to certain rooms in our house due to improper ducting done by the original installer. Pricing was very competitive and they assisted us in getting rebates from the manufacturer and also our energy provider.

Was looking for a company to come look at our furnace after we bought our condo. Reached out to a few other places multiple times and got no response so after reading some reviews we decided to go with Hefferon. Called them up and scheduled an appointment quick and easy, the service men (Mark and James) showed up on time and were very friendly and helpful. They took the time to look over my furnace and explain what was going on and the different options we could take going forward. Even signed up for a service plan so we are now a priority customer. Definitely glad we called these guys and will be sticking with them. Thanks!