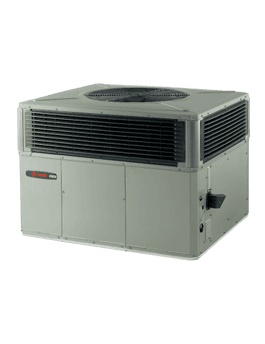 Versatile and flexible
The beauty of the XL15c EarthWise® Hybrid system is that it can handle any temperature requests. With a high-efficiency heat pump working in mild to hot climates, and a dual-stage furnace working in cold climates, this system can handle whatever temperature you might wake up to each day.

Efficient performance
The XL15c EarthWise® Hybrid system offers up to 15 SEER2 for cooling and 81% AFUE for heating. Plus, this system is ENERGY STAR® certified, ensuring an energy efficient and quality performance.
Precise humidity control
Unregulated indoor humidity levels can result in problems like sinus issues, asthma, or even the deterioration of the inside of your home. The XL15c EarthWise® Hybrid system works to avoid and reduce these humidity issues and others you might face with its variable speed Vortica™ blower motors with Comfort R™ while still keeping consistent temperatures in your home.
Improved indoor air quality
Not only does this system fight humidity issues, but it's also compatible with our Trane CleanEffects® Whole Home Air Cleaner, which helps rid your home of dirt, dust, dander, and other harmful particles that may be floating around your home. The result is even cleaner and healthier indoor air.
Durable system
You expect your hybrid heating and cooling system to deliver year after year and the XL15c EarthWise® Hybrid system does just that. Featuring a Spine Fin™ coil, Weather Beater™ top, and a variable speed Vortica™ blower motor with Comfort-R™, this system is made to last.
See other All-in-One Systems