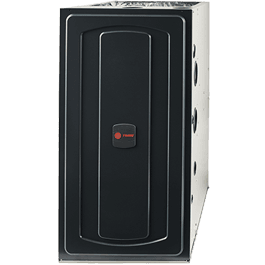 With efficient components and single-stage operation, the S9X1 furnace family was designed to keep you comfortable no matter the season.
Efficient performance
The S9X1 family features up to 96% AFUE and is packed with energy-saving features such as a high efficiency ECM (Electronically Commutated Motor) blower motor. These high efficiency features help lower monthly energy bills, helping you save money over the lifetime of your furnace.
Comfortable, even heating
High-efficiency, Constant Torque ECM blower motor provides a consistent flow of warm, comfortable air, while operating quietly and efficiently.
Durable Construction
All S9X1 materials are tested repeatedly for long-lasting performance and reliability.
Cleaner, healthier indoor air
Add Trane CleanEffects™ to your system for advanced air filtration that removes more dust, pollen and other irritants from conditioned air for a cleaner, healthier, more comfortable home.
See other Furnaces